Diana Asamoah disagrees with former producer over music rights
Gospel musician Diana Asamoah has said that she is thankful to have worked with her former executive producer Emmanuel Anane Frimpong.
In a letter addressed to Mr Frimpong, the singer noted that she is appreciative to him and his company Frimprince Music Productions.
"I, Evangelist Diana Asamoah, will use this opportunity to say a very big thank you for all the good works you have done for me. I really appreciate your strives and efforts. May the Good Lord bless and replenish all that you have put in to help His good work," parts of the letter signed by Diana Asamoah reads.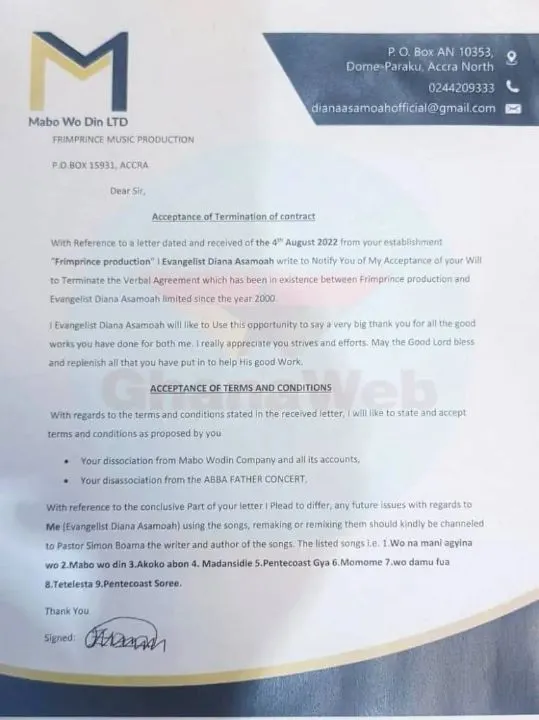 She stated that she accepts Mr Frimpong's decision to terminate their agreement after so many years.
READ ALSO – Frimprince Music terminates contract with Diana Asamoah, claims ownership of songs
This comes after Frimprince Music Productions terminated its contract with veteran gospel singer Diana Asamoah.
The company owned by the musician's long-time producer, Mr. Frimpong, pulled the plugs on their relationship of nearly 22 years.
In a letter addressed to Diana Asamoah, in August, Mr. Frimpong noted that on "several" occasions, she has breached the verbal agreement that binds them thus the termination.
Among other things, the company took ownership of the singer's verified Facebook page 'The Evangelist Diana Asamoah', dissociated itself from Abba Father, an annual gospel concert and the singer's company, Mabo Wo Din.
They also stated that Frimprince Music Production "shall continue to have absolute rights over all works that were produced under the production.
On Mr. Frimpong's decision to claim ownership of some of her works, Diana Asamoah directed him to consult with the co-writer of the songs before an agreement is reached.