Frimprince Music terminates contract with Diana Asamoah, claims ownership of songs
A company by the name Frimprince Music Productions have terminated their contract with veteran gospel singer Diana Asamoah.
The company owned by the musician's long-time producer Emmanuel Anane Frimpong pulled the plug on their relations after nearly 22 years.
In a letter addressed to Diana Asamoah, Mr Frimpong noted that on "several" occasions she has breached the agreement that binds them thus the termination. 
READ ALSO – Repentance: Keys to Powerful Living 
Frimprince Music Productions in the letter listed the terms of termination the gospel musician is expected to comply with.
The company, they stated, "shall continue to have absolute rights over all works that were produced under the production."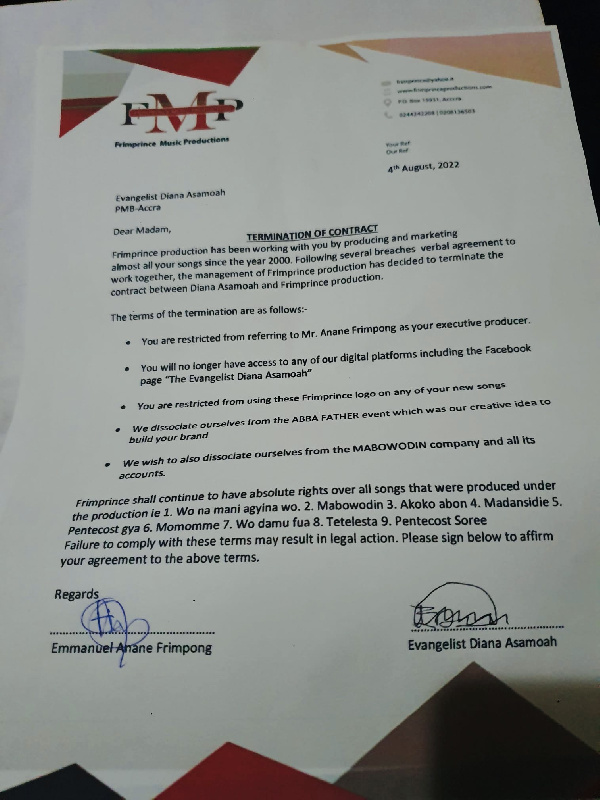 They include  'Wo Na Mani Agyina Wo', 'Mabowodin', 'Akoko Abon', 'Madansidie', 'Pentecost Gya', 'Momomme', 'Wo Damu Fua', 'Tetelesta' and 'Pentecost Soree'.
Among other things, Diana Asamoah is "restricted from referring to Mr Anane Frimpong as her executive producer. You will no longer have access to any of our digital platforms."
The company is also taking ownership of the singer's verified Facebook page 'The Evangelist Diana Asamoah'.
Diana Asamoah is also "restricted from using Frimprince logo on any of your new songs."
The company also dissociated itself from Abba Father, an annual gospel concert headlined by Diana Asamoah.
"Failure to comply with these terms may result in legal action. Please sign below to affirm your agreement to the above terms," they noted.